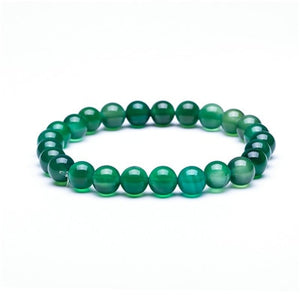 Green jasper bracelet
Green jasper connects to the Earth with healing and balancing energy and has been used in the root chakra to stabilize and energize the physical body. Placed over each chakra, it cleanses, accelerates and transforms the chakras and aura, balances yin and yang energies, and aligns the physical, emotional and mental bodies with the etheric realm.

Green jasper is especially attuned to the heart chakra, which is located near the center of the body. It governs our interaction with the outside world and governs what we accept and what we resist. It ensures the ability to balance so that we can be ourselves in our environment. When the Heart Chakra becomes unbalanced, we may feel that we are in control or in control in a relationship and become critical of others' faults and have inappropriate emotional responses to everyday external stimuli. The energy of the green crystal was used to clear blockages and balance the heart chakra, helping us to gain a clear understanding of our own needs and emotions. We can resolve the flow of emotional relationships, understand their cyclical nature, and accept change.
---
We Also Recommend
---