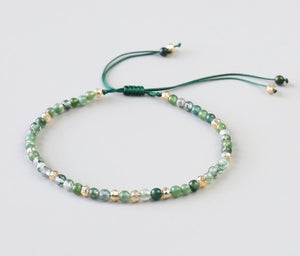 Tibetan green aventurine/lemon quartz adjustable bracelet
8.040 Ft

8.040 Ft

Save 4.748 Ft
Tax included.
---
---
Handmade Tibetan green aventurine and lemon quartz bracelet.
Main beads: 3mm green aventurine
Aventurine encourages its wearer to adventure, optimism and practical enthusiasm. This stone is a positive stone of well-being, it dispels negative emotions, strengthens our decisions, promotes compassion, encourages perseverance, while promoting openness and the ability to see alternatives and opportunities, therefore it is considered a lucky stone for gamblers!
Green aventurine relieves mental and emotional trauma, dissolves negative thoughts and brings calmness.
Spacer beads: 3 mm polished lemon quartz beads
Lemon quartz helps structure, focus and amplify thoughts and information. This quartz transmits energy. Since the color yellow is associated with transparency, communication and happiness, lemon quartz also helps to create balance.
Used in meditation, lemon quartz is believed to filter out distractions, promote concentration, open memory, reduce anxiety, attract money or help when needed, and reduce negative influences. It is associated with the third eye and crown chakras.
According to some mineral experts, lemon quartz also relieves cravings for food and nicotine.
Bracelet diameter: adjustable between 16 and 23 cm (fits most wrist sizes)
---
We Also Recommend
---