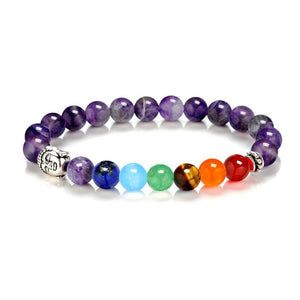 7 chakra amethyst bracelet with Buddha pendant
Chakra is the incredible energy of the universe that resides within all of us. To access and use such energy, we must learn to open our chakras in both our body and mind.
Designed to balance the seven chakras, this handcrafted chakra bracelet creates harmony and balance in both body and spirit. Chakra bracelet corresponds to the seven chakras with real colored semi-precious stones, so this beaded mala bracelet promotes healing and vitality.

Semi-precious stone beads are hand-selected piece by piece to create high-quality jewelry. The special silver spacer only emphasizes the special feeling associated with wearing it. The bracelet, made of smooth, polished stones and made by professionals, can be adjusted to size with the help of a drawstring.
Feel the energies of your chakras as this bracelet helps restore balance while wearing it.
Length: 18 cm on an elastic rubber thread, suitable for an average female wrist
Pearl size: 8 mm
---
We Also Recommend
---