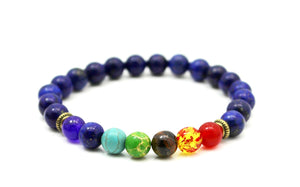 7 chakra blue lapis lazuli stone bracelet
The stone of truth, it encourages the honesty of the spirit both verbally and in writing, it brings harmony in relationships, it lends calm and loving communication.
Do you feel your chakras are out of balance? Find harmony with the 7 chakra lapis lazuli bracelet!

The combination of healing chakra, howlite and lapis lazuli deeply perceives positive energy, peace of mind, balance, healing, meditation, represents protection from the evil eye or black magic, removes negative energy, encourages successful business or academic results, unites family and friends! One of the best gifts you can give your loved ones!

Length: 19.5cm
Flexible rubber thread
Beads Size: 8mm.

A symbol of royalty, honor, power, spirit and vision. It is a universal symbol of wisdom and truth.
The stones, which represent the 7 chakras, affect the energy flow of the chakras with their beautiful colors.

---
We Also Recommend
---